There are many styles of domination an Alpha Female can explore in BDSM. Being a female dominatrix, Domina or Domme creates a safe space for womxn/women identified folks to explore power dynamics and head-spaces typically reserved for those socialized as male within the patriarchal paradigm. In this article you will find out the basics of domination and tips to get started on your BDSM journey into a more embodied, powerful womxn/woman. First, let's look at what being a Dominatrix is all about.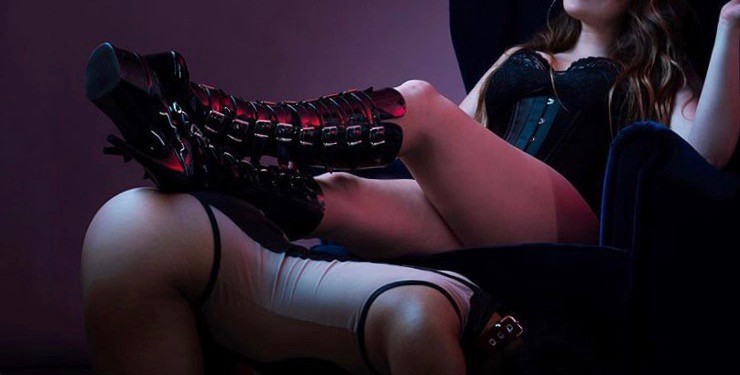 What is a Dominatrix?
Dominatrix is a French word that means "one who rules over others." It is commonly defined as a power position in which one dominant partner exerts influence, structure and discipline over their submissives. While it is believed that one partner, the Domme holds all the power in these dynamics, it is important to remember an effective Domme is abiding by the boundaries and consent She and Her submissive have defined prior to entering the active BDSM scene. If it is an ongoing relationship or a  24/7 relationship, there are regular check-ins around hard limits, soft limits, pushing boundaries, consent and pleasure. For more info on limits and discussing BDSM with your partner, check out this article.
In pornography, you will often see Dominas asserting their dominance over their partners through pegging, chastity, orgasm denial, cock and ball torture (CBT), and other forms of sexual control. While this is common, it is important to note that Dominance is not inherently sexual and that many Dominants assert their control over their submissives without sexual contact through discipline, protocol, sadomasochism and a variety of creative outlets exploring power play in kink. 
What makes a Powerful Domme?
There are a plethora of powerful female Dommes out there and they are all different. Dominas each have their own unique style of Dominance that draws their ideal servants and submissives to them. For example, some Dommes are experts at using their wit and sharp tongue to elicit humiliation and perform verbal degradation. This goes well with orgasm control and those who get off on embarrassment or pain. Some Dommes are uninterested in humiliation and participate in noble Domination which trains the submissive through encouragement and clear protocol instead of shame, creating a structure for the submissive to follow in order to be rewarded by being allowed to rub their Domme's feet or have an orgasm. 
Some Dommes enjoy creating religious scenes with their submissives becoming a literally living Goddess enjoying Her worship. And then there are teacherly Dommes who make their subs read books about Feminism to learn how to be a better servant and ally to womxn, proving their knowledge through writing papers so they may be rewarded with their beloved Domme's Golden Shower. Or Dominas who enjoy primal play, hunting their submissives in nature pursuing a predator/prey dynamic. There's no telling what the Huntress will do when she catches you! 
The most effective and powerful Dominas know what interests them, what they find pleasurable and what parts of power play turns them on. It does not matter if you're piercing your submissive with needles or using them as a footstool as long as you, the Domme enjoy what you're doing alongside your submissive. There's a style of Domination fit for every Domme AND every sub!!
Learning how to be a great female dominatrix is about rightfully controlling the power you already possess. Exploring scenes and activities that make you feel like a powerful Queen are a great place to start unleashing the Domme within. Be open to trying different things, learning new skills and getting messy. While the submissive gives you their hard limits, YOU as the Dominant get to set the scene, the pace and choose the play. There's a limitless amount of creativity and potential pleasure as a Domme! 
Contrary to popular belief, Dominance has nothing to do with manipulation. Dominance is two consenting adults exploring their limits and participating in a fulfilling dynamic. While there are dynamics that include blackmail and other forms of "manipulation," this is all consented to in advance so everyone involved knows what they're getting into. At any time either party can use their safe-word.
Communication is Key
The most important part of being the Dominant in power exchange is communication, both listening skillfully and articulating your needs, wants and expectations clearly. Being able to listen deeply and get to the core desire of you and your submissives' kinks opens realms of infinite possibility to play in. 
Ensure to always have a safe word – and even a safe signal! If you are gagging your sub and tying them up, they need a signal to let you know if things are not ok. Check-in often, especially when getting to know your sub's (and your) limits. Eventually you will develop fluency for their needs and limits but don't be shy to check in the meantime. If you do not feel you can communicate clearly and be responsible for another person's well-being in a scene, you still have more practice to do until you're ready to step into your Domina heels! Practice until your commands and check-ins feel natural and pleasant to say.
To become a great female dominatrix, first learn to embrace your power and courageously communicate! You will find you're actually having fun managing the people around you and getting what you ask for if the Domme-life is for you. It takes practice and experience to find your unique style, a sexy adventure! Enjoy the ride and if you find yourself uninterested in Dominating, maybe you'll find submission is more your thing. It's all ok! The expansive world of kink is yours to explore. 
Connect with Dommes (or subs) in your area by visiting our kinky community here.  
Do you want to explore the best kinky, entertainment, and giveaways? Feel free to subscribe and get your giveaways every month.